We strive to produce one or two litters a year of quality puppies with intelligence, beauty, health and outstanding dispositions. Health clearances are always done and must pass on parents of puppies. We do Hips (either PennHip or OFA), Eye (by a CERF ophthalmologist),SA, VWD and Thyroid. We have puppies competing in conformation, agility, obedience, doing therapy work and serving as service dogs. Our puppies are born in the house right in our living room. They are handled constantly and well socialized. Puppies are temperament tested at 7 weeks of age, vet checked and vaccinated. Housetraining is started and well underway before they go to their new families.
For information on the sire and dam of any one of our Standard Poodles, as well as any additional pictures or stories, click on his or her name under Standard Poodles in the menu at the top of this page.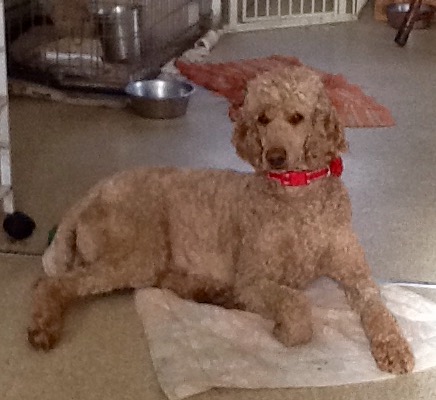 "Nakia" - LCM Nakias' HIdden Treasure
Retired LoCo Meadows Dam
LCM Nakias' Hidden Treasure, AKC # PR17299702, Nakia is one of the fourth generation of our Standard Poodle female line. She was chosen as the pick of her litter because of her winning combination of temperment and beauty. She's an excellent mother both in how she produces consistently excellent pups and in how she cares for them. She has an outgoing personality that caught our attention right away and is super sweet and friendly.  She has good hip and normal eye, thyroid and sebaceous adenitus clearances on file with the OFA.  To see the dam and sire and for more pictures and stories, see Nakia's page.
Nakia's theme song is HIdden Treasure.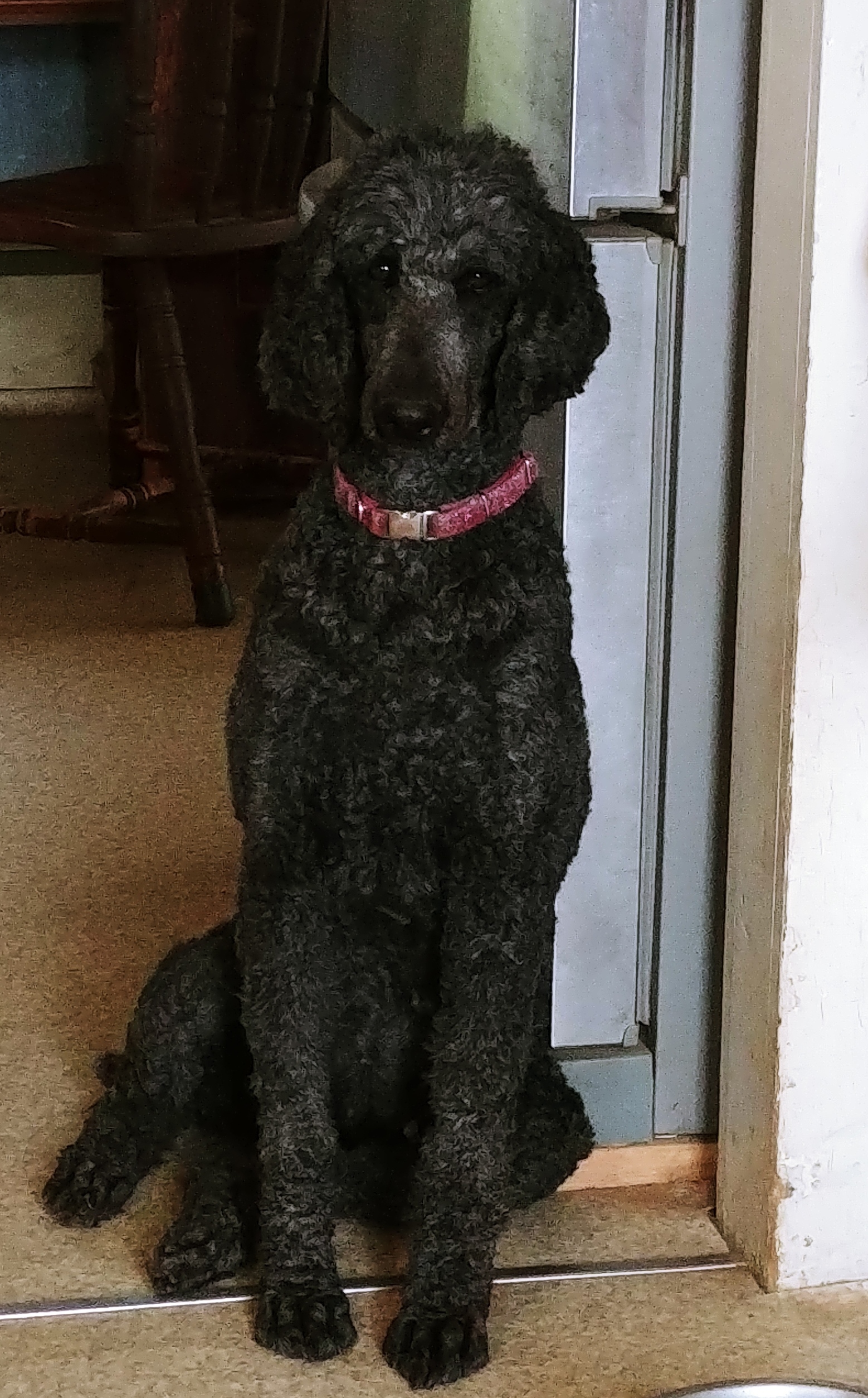 "Raquel" - CH Alaman's Stand By Me
Retired LCM Dam
CH. Alaman's Stand By Me, AKC Reg. # PR17305701, Black, Raquel came back to us from Alan Waterman, her co owner and breeder, after being chosen as pick puppy and completing her show career from one of Juicys last litters. She carries the wonderful temperament  and beauty of both of her parents, Juicy and Jordan. We were thrilled to have her offered back to continue our black lines. Raquel has health clearances done for hip, eye, NE, and is vWD clear.
Raquel's theme song is Stand by Me.
"Amber"- LCM Lumiere It's All About Amber
Retired LCM Dam
LCM Lumiere It's All About Amber AKC # PR14752202, Amber has proven herself as an outstanding dam. Producing puppies that have wonderful temperament and excellent type. We have continued improving our breeding program keeping two of her puppies, Nakia and Raggs. She has health clearances and is clear of any problems with eye, hip, thyroid, SA, NE and is vWD clear through parentage.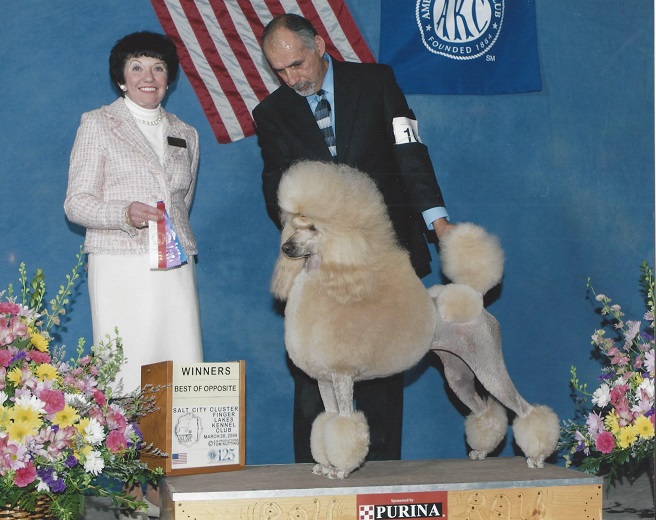 "Rayna " - CH Lumiere Farley's D Gone Loco
LCM Retired Dam
CH. Lumiere Farleys D Gone Loco, Reg #PR08943302, Apricot, Rayna has been a key to our breeding program. Expanding the correct conformation, movement and temperament to our breeding program. She has health clearances done for hip, eye, thyroid, NE, SA, and is vWD clear through parentage. We have kept a few offspring and are thrilled with the results. Ranyna completed her AKC Championship being shown by Terry Farley then completing it shown by Alan Waterman. We would like to thank both of them for making this possible. Also Natalie Lasanen, Lumiere Standard Poodles for allowing us to bring Rayna into our family. Also Judy Winter for introducing us to Natalie. Rayna is now retired and living a wonderful life with a couple and a few other canine family members.
Rayna's theme song is The Locomotion.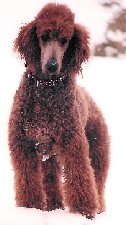 "Mickee"- LCM Mickees' 'Niw Red Cadillac
Retired LCM Sire
Mickee is a wonderful buddy. He is my shadow, helping me with chores around the farm.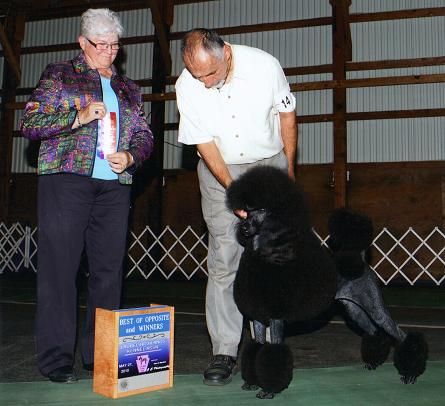 "Juicy" - CH Boxwood Juicy Couture
LCM Retired Dam
CH. Boxwood Juicy Couture, Reg # PR11886801, Black, Juicy came to us a bit later than in puppyhood from Alan Waterman and Christine Nethery. She has been a key to adding black to our breeding program. She is a very sweet girl that has continued to add the quality and temperament to our program. Her daughter, Raquel, carries her lines through. Juicy has health clearances done for hip, eye and is vWD clear through parentage. Juicy is now retired and living her life out on our farm enjoying life to the max. Her favorite activity is going to the barn getting full of cobwebs and rolling in the straw. She also employs herself as chief calf monitor.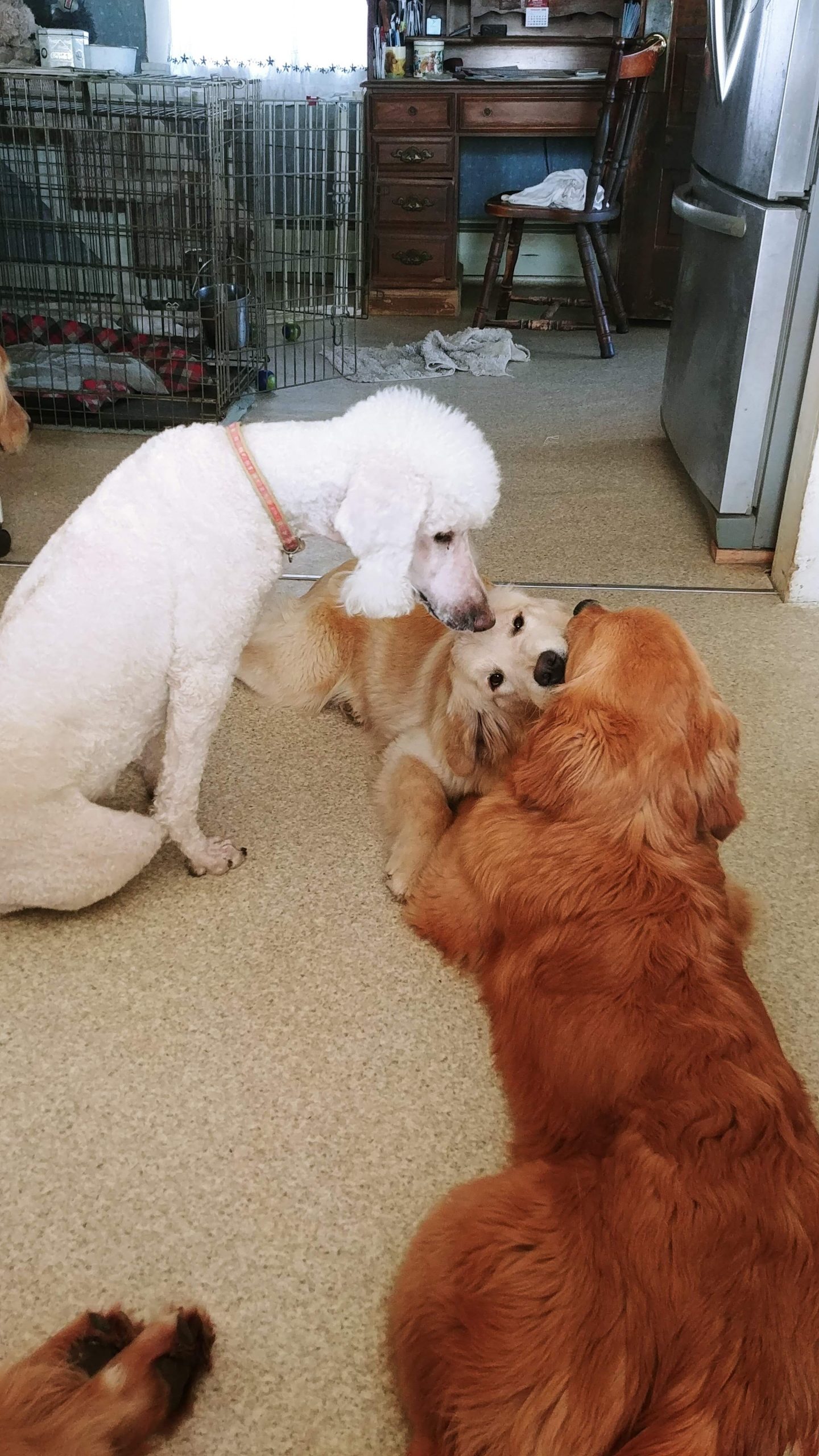 "Satine" - Alaman's Spectacular Spectacular
LCM Dam
AKC Reg # PR18169602, DOB 12/8/2014. Satine was taken as a pick puppy from the Juicy/Georgio litter. She has 9 points, with one Major towards her AKC Championship. Thank you Alan Waterman for bringing her back home. She has health clearances for hip, SA, thyroid, prcd, DM, NEWS, vWD, CM, along with 3 other genetic abnomalities in the breed and is clear of all.
Satine's theme song is Satin Sheets.
CH. Lumiere Take on Me of LCM, "Chase" and LCM Sparkle And Shine, "Sparkle." I am very excited about this breeding. It's a repeat breeding and the puppies were outstanding. Both conformation and temperament. Breeding planned for Dec.
CH. Alaman's Talk Of The Town, "Lukas" and LCM Santiago's Pebble In The River, "River." This will be the first breeding for River. Should be a wonderful cross with many color possibilities. Lukas is blue and River is apricot. Breeding planned for October.
No Golden Retriever breedings planned until Jan 2024.